| | |
| --- | --- |
| | Disability on the Net |
ABSTRACT
The signing of the Americans With Disabilities Act in 1990 did much to bring the disability movement into the public consciousness and discourse in the U. S. It also served to crystallize and further energize the disability community. Nowhere is this more evident than on the World Wide Web. I examined three representative or exemplar disability sites as narrative texts, in which web authors construct for and with visitors representations of disability. The sites represent three distinct, yet overlapping, images of disability: disability as pragmatics, disability as politics, and disability as community.
INTRODUCTION
For hundreds, if not thousands, of years, societies, institutions, groups, and individuals have ignored, villified, persecuted, oppressed, rejected, scapegoated, ostracized, and marginalized persons with disabilities. Without physical, financial, psychological, and discursive access, the vast majority of persons with disabilities remained outsiders in their own local communities, prevented from participating in public events and discourse. The Internet profoundly changed the ability of persons with disabilities to access public spaces and conversations. This access in turn produced disability websites and networks that are transforming representations of disability, as well as increasing accessibility for persons with disability in all facets of everyday life. In this essay, I first discuss the notion of disability as community. Second, I examine three three exemplar disability websites. Last, I discuss the implications of my analysis.
DISABILITY AND COMMUNITY
Community's utility as a metaphor may parallel that of family ("Our company is just one big happy family!") and village ("Our department is a village") in their overuse and abuse. Still, several authors frame disability as community and the term nonetheless can serve as a useful heuristic tool. Webster's 1913 Revised Unabridged Dictionary defines community as, "Common possession or enjoyment; participation." Community may also refer to: "Common character; likeness." More recently, Wordsmyth (1999) lists one definition of community as, "the state of being joined together by shared interests." Meriam-Webster's (2000) definition likely best fits the notion of community applicable here: "a body of persons or nations having a common history or common social, economic, and political interests." In this last definition, community stems from shared understandings grounded in similar life experiences.
Although Oliver (1996) argues that persons with disabilities are more an empowered collective than a community, Linton (1998) observes that disability necessarily binds people together. She reasons that as a community, persons with disabilities "are all bound together, not by [a] list of collective symptoms but by the social and political circumstances that have forged us as a group" (p. 4). Linton (1998) further argues:
Disabled people, across the broadest spectrum of disability, have solidified as a group. Although this group identity has certainly not been comfortably embraced by all disabled people, a strong disability alliance has led to civil rights victories and the foundation of a culturally identified disabled community (p. 5).
For Linton, the power to voice one's own cultural narrative is at the center of the disability community. In his discussion of disability arts and culture, Hevey (1997) observes that "disabled people have not an input, let along a controlling interest, in culture and representation done in our name" (p. 209).

Traditionally, those who share particular beliefs or values are labeled members of an interpretive community. Machin and Carrithers (1996) argue that such a conceptualization of community suggests a static, rigid approach to community that does not correspond with everyday life. Communities arise from conversations in which participants may enter and leave, yet the community remains. These communities of improvisation share "the sense of mutability and historicity which runs throughout. The conversation itself endures, but both participants, topics, and attitudes can, and do, change continuously" (p. 350). Community thus becomes process and product. Participants engage in conversation, the process of community, and share common experiences and histories. Communities as sites of improvisation, rather than interpretation, provide a richer and more useful approach to considering community in cyberspace. In discussing cybercommunities, Fernback (1999) argues that such communities are symbolic, socially constructed through computer-mediated interactions. Unbounded by place and space, cybercommunities are more communities of improvisation than interpretive communities. "Virtual" communities are "real" in the sense that "social practices are embedded in virtual interactions; virtual community has a felt nature for its inhabitants" (Fernback, 1999, p. 217). They are also at once local and global, "glocalized . . . . as worldwide connectivity and domestic matters intersect" (Wellman & Gulia, 1999, p. 187).

Communities may also be at once virtual and physical. Mele (1999) traces the story of the residents of a low-income housing development, Robert S. Jervay Place, in Wilmington, NC, as they fought to participate in the development's demolition and rebuilding. The narrative reveals how a geographical community was fostered and made "real" in cyberspace. The residents who challenged the housing authority's plans used the Internet to organize and gather information to bolster their position after earlier attempts through conventional means had failed. Central to the group's strategic use of the Internet was a website for the housing development, managed by residents. Although the site was useful in presenting historical and cultural information associated with Jervay Place, "the [resident] leaders were quick to make the most of its use as a collective action tool" (Mele, 1999, p. 304). Mele points out that the Internet was the answer to all the residents' organizing and information problems. Still, he argues that for disadvantaged communities, the Internet can prove a powerful tool in facilitating collective action.

Disability websites offer an intriguing window into the practice and process of community as they provide a space for the voices of persons with disabilities. In my exploration of disability websites I asked, "How are disability and the disability community constructed and represented on websites authored by persons with disabilities?"

Hundreds of thousands of webpages and websites focus on disability. Simply searching for "disability" on AltaVista yielded nearly 800,000 websites. I was interested only in disability websites authored by persons with disabilities. For this study, I examined three exemplar websites that provide a range of disability representation: The Disability Rights Activist, disABILITY Information and Resources, Disability Social History Project. The sites are different in their look, focus, and purpose. They provide useful comparisons and contrasts in examining disability on the Net, representing three distinct perspectives on disability: the pragmatics of disability, the politics of disability, and disability as community.

THE PRAGMATICS OF DISABILITY

Jim Lubin developed disABILITY Information and Resources as part of his extensive web activities. Featured in several published articles focusing on disability (see Jim Lubin Closeup for a list), Lubin has created an active presence on the WWW. His primary site, Jim Lubin's Home Page includes two versions, graphics and text-only. The graphics versions displays a rich assortment of images and audio. The text only side facilitates ease of reading for visitors with older browsers or voice software that reads text.

disABILITY Information and Resources includes minimal graphics and focuses on information essential to disability access. The background is light yellow, text is black, links are blue. The top of the page incorporates a single graphic, the traditional disability image (person in a wheelchair), shown here on the left. However, the graphic background is a blue sky with clouds. The bottom of the first page contains the remaining graphics, hyperlinked to other organizations or pages. Lubin's site indexes a variety of WWW resources.
Lubin primarily concentrates on the pragmatics of disability--how to obtain resources essential for independent living. He constructs disability as a problem to be solved through gathering relevant information and applying necessary resources. disABILITY Information and Resources provides an instrumental function for persons with disabilities, serving as a guide for WWW sources. Lubin's briefly and matter-of-factly refers to his own disability at the bottom of first page: "These pages were created and are maintained solely by Jim Lubin, who is a C2 quadriplegic, completely paralyzed from the neck down and dependent on a ventilator to breathe. I use an keyboard/mouse emulator with a sip and puff switch to type morse codes." The only other mention of his disability on the site is under the "Selected Documents." Lubin includes a link to "Information about Transverse Myelitis" and states, "this is how I became a respirator dependent quadriplegic."
The site is organized into eight major sections that are listed on the first page: Categories, Other Sites I've Done, Politics, Spotlight, Free Presciption Medicine, Just a few of the latest additions, Databases, and Selected Documents. The first section, Categories, lists 23 categories such as Accessibility Design Resources, Resources for Caregivers, Disabilities Organizations, Legal and Advocacy Resources, and Wheelchair and Mobility Products. Next is a list of four other disability-related sites Lubin has developed, including Quadraplegic List and Vent Users' Support Page. "Politics" includes sites that directly address disability, such as The Disability Rights Activist and Unique Peoples Voting Project, as well as sites associated with broader political issues, such as 2000Vote.com and Congress.org--Your Link to Congress. The "Spotlight" section primarily indexes disability-centered websites, as with Cornucopia of Disability Information (CODI) and Disability News Service, and also includes more general health-related sites, as with the U.S. government's Healthfinder and the commercial venture, HealthAtoZ.
The site's plain look reflects the importance of visual accessibility. Although newer, more sophisticated voice software programs for persons with visual impairments more easily handle complex sites, older programs read only left to right. Thus, the trend toward webpages formatted in tables, such as this page, made sites inaccessible for many people with visual impairments. No software programs read image maps or graphics, so graphics-intensive pages often reveal little information to persons with visual disabilities. Lubin includes what are called "ALT" tags for every graphic on the website. Embedded in the HTML code, these tags describe the graphics and are often visible on the page before the graphic downloads. The voice software programs then read these tags.
Images included on many disability pages edge the bottom of the disABILITY Information and Resources main page. These graphics are hyperlinked to organizations, chat rooms, or disability policy statements, representing themes of accessibility and community:




The first graphic, Best Viewed with Any Browser, refers to Cari D. Burstein's campaign to fight the increasing trend of developing websites for specific browsers. Bobby, developed by the Center for Applied Special Technology (CAST), provides an "analysis of [webpage] accessibility is based on the World Wide Web Consortium's (W3C) Web Content Accessibility Guidelines." The CPB/WGBH National Center for Accessible Media (NCAM) sponsors another the campaign for website accessibility. The Web Access Symbol indicates that a site "contains accessibility features to accommodate the needs of disabled users. Disability Chat is just one of many services offered on the #Disabled Channel Services Homepage.
| | |
| --- | --- |
| from Justice For All website | Although Lubin clearly emphasizes the pragmatics of disability, he nonetheless subtly promotes a view of disability that underscores activism and independent living. Links to sites such as Ability to Independence, Computer for Handicapped Independence Program, and Justice For All (a disability rights organization), reveal the necessary entailment of politics in the practice of living with disability. That is, Lubin suggests that living independently and exercising one's Constitutional rights naturally follow from the practical experience of disability. |
disABILITY Information and Resources incorporates community into its pragmatic approach. Lubin promotes networking by including an entire page indexing of cyberspaces for disability chat. The other sites Lubin developed: Quadraplegic List, Transverse Myelitis Internet Club, and Vent Users' Support Page. These pages, including Disabled Chat, contain a welcome message, explicit instructions on how to use the various options for Internet communication, the purpose of each group, and an invitation to join one or more of the many online gatherings. Links to community-promoting organizations, such as Through the Looking Glass, based in Berkeley, CA, Rest Ministries, a online Christian organization for those with chronic illness or pain, and International Ventilator Users Network (IVUN), further emphasize the importance of community and community-building for people with disabilities.
THE POLITICS OF DISABILITY
As with disABILITY Information and Resources, Adrienne Rubin Barhydt's website, The Disability Activist, contains minimal graphics and maximum text. However, the similarities stop there, as activism is Barhydt's narrative center. From the first topic that links to her discussion of Why Disability Rights?, Barhydt makes her case for involvement in the disability rights movement. Her site includes pages such as Tools for Activists, Conferences, Demonstrations, and Other Events, Follow the Issues that Affect Our Lives, The Media Don't Really See Us, and Yes, Your Vote Matters. This extensive site primarily functions as an index of disability rights websites, as well as providing some original content. Barhydt comments on each site indexed, such as this entry for the Grassroots Lobbying Manual on the Tools for Activists page: "by the San Francisco AIDS Foundation is a thorough guide to lobbying beginning with defining your goal." She also includes a quote from the manual.
The website shares several graphics with the disABILITY Information and Resources. Barhydt prominently displays the Web Access Symbol on the top center of the first page. The bottom of the page includes the Best Viewed with Any Browser logo and the Bobby Approved seal. In line with the more activitist tone of the site, Barhydt includes a Free Speech Online Blue Ribbon Campaign graphic,

| | |
| --- | --- |
| linked to the Voters Telecommunications Watch (VTW) free speech website. VTW is "a New York-based citizen-based Internet civil liberties group." However, although Net surfers can access the site, VTW has not updated it since February 20, 1998, due to lack of funds. Nonetheless, the VTW did succeed in spreading awareness of free speech issues on the Internet, if the ubiquity of the group's campaign graphics are any indication. | |
In the Why Disability Rights? page, Barhydt explains that she was politically active before becoming disabled, but was not aware of the discrimination faced by persons with disabilities. Her activism stems from the pragmatics of disability and incorporates her rejection of stereotypical constructions of disability. Barhydt writes:
Do you know what people with disabilities want? Nothing special, nothing unusual. We want to be able to attend our neighborhood school, to use the public library, to go to the movies, to get on a bus to go shopping downtown or to visit friends and family across town or across the country. We want to be able to get into our neighborhood polling place to vote with everyone else on election day. We want to be able to get married. We want to be able to work. We want to be able to provide for our children. We want high quality, affordable medical care.* [see story below] We want to be seen as real people, as a part of society, not someone to be hidden away, or pitied, or given charity. We reject media portrayals that show us as evil, or pitiful, or super-cripples. We just want to be seen as what we are - regular people.
Earlier on the page, Barhydt describes the difficulties she encountered maneuvering around her neighborhood in a wheelchair. With few cut curbs and cluttered sidewalks, a simple trip to the grocery store became an expedition. Worse was her visit to a physician's office:
*Do you have time for another horror story? This highlights the kind of attitude that leads to discrimination. My family doctor recommended that I see a gynecologist and gave me a doctor's name. I called to check accessibility and the receptionist told me that I probably could get in okay with the wheelchair but she really didn't think it was a good idea for me in a wheelchair to sit in a waiting room full of pregnant women. What did she think? That they'd look at me and give birth to monsters?
Barhydt challenges others' definitions of disability and constructs disability as normal. That is, she notes that disability does not discriminate, transcending race, class, gender, sexual orientation, and age. Rejecting dominant notions of disability means accepting persons with disabilities as "regular people." Thus, disability as politics involves exerting influence in the effort to achieve a full voice in society.

Frustrations with physical and social barriers to access served as the impetus for Barhydt to construct disability as politics. However, the injustices persons with disabilities suffer in their daily lives form the basis of Barhydt's activist campaign. Links to resources on the WWW focus on the rights of persons with disabilities as well as how to exercise those rights. The new Frequently Asked Questions (FAQ) page demonstrates Barhydt's commitment to political activism. For example, she lists websites that answer questions such as Where can I get help to enforce my rights? , What are the rights of disabled people seeking employment?, and What are my rights to accessible transportation? In addition, she includes, I am writing a paper for school on on a disability related topic. Where can I get information? Thus, part of disability as politics focuses on providing everyone, whether disabled or nondisabled, with useful information on disability issues.

The Organizations, Individuals and Agencies page provides a glimpse into the disability community's diversity. Groups range from the traditional, such as the National Organization on Disability and the National Association of the Deaf, to the more nontraditional, such as The Yellow Dream Machine Planet - Disability Rights (advocates for children with disabilities) and the Madness Group (mental health support group). Barhydt includes a description of each website, but does not suggest joining any particular group.

However, Barhydt leaves no doubt that site visitors need to get involved in advocating for disability rights. The Disability Activist website includes pages such as Your Input Needed, listing groups, studies, and organizations requesting information from people with disabilities, and Follow the Issues that Affect Our Lives, such as housing, managed care, and employment. For Barhydt, the practice of disability requires activism in all arenas related to disability rights.

DISABILITY AS COMMUNITY

The Disability Social History Project website begins with a nearly blank white page. The top left corner has a link to the text only version; the top right corner links to the Disability History Home page, the graphics version. The center of the page contains an animated graphic that asks:
Did you know that . . .
. . . Helen Keller was a Socialist?
. . . Disable people were the first to be exterminated in Nazi Germany?
. . . Disabled people won a significant legislative victory after holding the longest sit-in at a federal building?
The questions offer an intriguing invitation to explore the site.

The text-only version looks much like the disABILITY Information and Resources and The Disability Activist websites, with two exceptions: the use of font colors, such as Welcome to the Disability Social History Project! , and tables. The use of colors is somewhat surprising in that the World Wide Web Consortium's (W3C) Web Content Accessibility Guidelines states, "Ensure that all information conveyed with color is also available without color." The site does not indicate that it is "Bobby Approved." Still, all images on the graphics side of the site include ALT tags and image maps include text links as well. In my discussion of the site, I will focus on the graphics version.

Patricia Chadwick (site designer) and Stephen Dias (site content) created the Disability Social History Project website. In the "About the Producers section," Chadwick describes her experience producing radio programs and a video on disability; Dias has long been active in disability issues and currently works for the library of the California Medical Association. They do not refer to themselves as disabled, although they describe the project as "an opportunity for disabled people to reclaim our history and determine how we want to define ourselves and our struggles." Thus, I concluded that the Disability Social History Project website met my criterion of a site about disability created by persons with disabilities.

Chadwick and Dias clearly construct disability as community. For example, the About page begins with,"THIS IS A COMMUNITY PROJECT." In the overview of the project, the webspinners state:
The Disability History Project is a community history project and we welcome your participation. . . . People with disabilities have an exciting and rich history that should be shared with the world. Please email or mail us anything that you would like to see become part of the Disability Social History Project, including your disabled heroes, important events in disability history, and resources.
The Links page covers a broad range of disability websites, including topic area such as history, media, art and culture, disability studies, ethnic minorities with disabilities, gays and lesbians, and women with disabilities. Chadwick and Dias expand the disability community presented by Lubin and Barhydt to include the study of disability. Thus, Chadwick and Dias fold academics into the disability community.

The home page for the Disability Social History Project visually centers on the graphic below: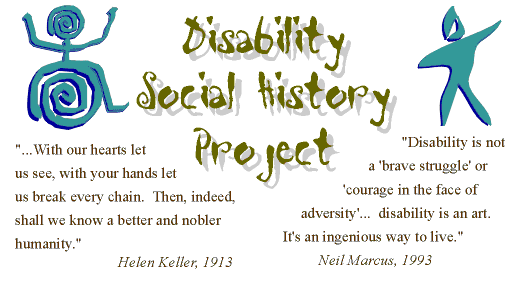 The images connote an active disability community, with the use of bright colors and whimsical folk-art drawings. The quotes framing the project's title represent both the old and new aspects of the disability community. Helen Keller's (1913) words: "With our hearts let us see, with your hands let us break every chain. Then, indeed, shall we know a better and nobler humanity," are juxtaposed with those of Neil Marcus (1993): "Disability is not a 'brave struggle' or 'courage in the face of adversity'... disability is an art. It's an ingenious way to live." Keller's quote is non-confrontational, yet still suggests a plea for equal access. Marcus offers a criticism of common representations of disability evident in everyday interactions, and particularly in the media (e.g., Darke, 1997; Woodward, 1994). The graphics and quotes display the unity and diversity in the disability community. Visual balance and color suggest unity; traditional images (person in a wheelchair) and words (the Keller quote) contrasted with nontraditional images (person walking) and words (the Marcus quote) suggest diversity. The Links and Timeline pages also indicate a commitment to a broad and diverse definition of the disability community.
The Disability Social History Project website addresses culture in three ways. First, in the Overview, the authors state:
Disability has existed since the beginning of time. The ways in which people with disabilities have been treated and represented in art and media varies dramatically throughout history and among different cultures. . . . The ways in which disabled people have acted and have been treated and viewed must be examined within the social, political, economic, and religious climates of the times and cultures.
Here, the authors recognize the influence of culture on how people define and interpret disability. Second, later in the Overview, the authors observe that persons with disabilities struggle within a culture of oppression; uncovering the hidden history of persons with disabilities is a step toward freedom. Third, the notion of common experiences permeates the site, particularly on the People page, which describes both famous, and not-so-famous, persons with disabilities, such as Harriet Tubman, Dorothea Lange, and Wilma Mankiller.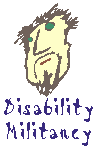 Just as the pragmatic disABILITY Information and Resources contains elements of politics and community, and the political The Disability Activist incorporates pragmatic and community components, the Disability Social History Project integrates elements of pragmatism and politics with its community theme. A pragmatic approach to disability is most evident in the Links page's Resources and Directories and Women with Disabilities categories. Although Chadwick and Dias list only a handful of links in each of the two categories, they nonetheless include sites with comprehensive disability resources. The Disability Social History Timeline exhibits a political side in its sections on Freak Shows, Disability Militancy in the 1930s, the T-4 Program (the Nazi Germany extermination of adults and children with disabilities), and Women's Symposium. For example, Disability Militancy notes the influence of the labor movement on disability militancy in the 1930s. Strikes by persons with disabilities in what were called "sheltered" workshops, as well as the forming of the League of the Physically Handicapped in New York City, were hallmarks of early disability rights activitism.
Disability Social History Project website constructs a complex image of disability. Persons with disabilities represent a diverse and far-reaching community, rooted in a largely sequestered history that only recent has begun to emerge after thousands of years of suppression. Disability community entails pragmatic and political elements, as well as an activist approach to the past, present, and future.
CONCLUSION
The Internet has forever changed the meaning of community. Where community once referred to a group of people in a particular physical location, the Internet has made the notion of geographical boundaries practically irrelevant. Persons with disabilities, traditionally denied a voice in public discourse, have utilized Internet tools to claim a place in cyber dialogue. Further, these websites use the Internet to suggest concrete action in the everyday lives of persons with (and without) disabilities. Regardless of the construction of disability represented, the websites offer disability identities that can be enacted in real and virutal space.
I examined three exemplar websites covering a range of disability representation: disABILITY Information and Resources, The Disability Rights Activist, Disability Social History Project. Although each incorporated elements of pragmatics, politics, and community, the sites revealed distinct differences in emphases both in their uses of graphics and language. These similarities and differences underscore the hallmarks of the disability community: unity and diversity. Thus, although we may speak of a single disability community, more accurately we should speak of multiple disability communities.
The Internet provides a powerful avenue for persons with disabilities to create their identities, organize, network, and address common problems. Although clear differences exist among the three websites I analyzed, all demonstrate the importance of the WWW in promoting diverse disability voices. Websites offer persons with disabilities opportunities to construct identities on their own terms rather than on the terms of the nondisabled. Moreover, the strong presence of persons with disabilities on the WWW suggests that these are voices that must be heard and can no longer be locked away.
REFERENCES
Darke, P. (1997). Everywhere: Disability on film. In A. Pointon & C. Davies (Eds.), Framed: Interrogating disability in the media (pp. 10-14). London: British Film Institute.
Fernback, J. (1999). There is a there there: Notes toward a definition of cybercommunity. In S. Jones (Ed.), Doing Internet research: Critical issues and methods for examining the Net (pp. 203-220). Thousand Oaks, CA: Sage.
Linton, S. (1998). Claiming disability: Knowledge and identity . New York: New York University Press.
Machin, D., & Carrithers, M. (1996). From "interpretative communities" to "communities of improvisation." Media, Culture & Society, 18, 343-352.
Mele, C. (1999). Cyberspace and disadvantaged communities: The Internet as a tool for collective action. In M. Smith & P. Kollack (Eds.), Communities in cyberspace (pp. 290-310). London: Routledge.
Meriam-Webster WWW Dictionary . (2000). Available at: http://www.m-w.com/dictionary.htm
Oliver, M. (1996). Understanding disability: From theory to practice . New York: St. Martin's.
Webster's Revised Unabridged Dictionary . (1913). Available at: http://humanities.uchicago.edu/forms_unrest/webster.form.html.
Wellman, B., & Gulia, M. (1999). Virtual communities as communities: Net surfers don't ride alone. In M. Smith & P. Kollack (Eds.), Communities in cyberspace (pp. 167-194). London: Routledge.
Woodward, J. (1994). Boutonnieres. In B. Shawn (Ed.), The ragged edge: The disability experience from the pages of the first fifteen years of the Disability Rag (pp. 25-27). Louisville, KY: The Advocado Press.
Wordsmyth Educational Dictionary-Thesaurus. (1999). Available at: http://www.wordsmyth.net.